Pyrex Compatibles
In mid-1972, Corning released three new Pyrex standard patterns designed to match already-existing Corelle dinnerware patterns, branding them "Pyrex Compatibles".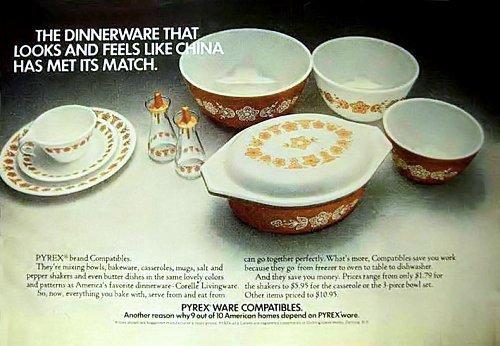 Butterfly Gold, Spring Blossom Green, and Snowflake Blue were all produced in the full range of then-current Pyrex opalware shapes, qualifying them as Standard pattern collections. Joining Verde, Daisy and Friendship, their introduction would bring the number of standard patterns available that year to six, the most to ever be offered simultaneously.
Each collection included three-piece bakeware sets and the short-lived 664 4-quart round "Big Bertha" casseroles.
These original Compatibles patterns were additionally offered on a variety of tabletop ware including butter dishes, creamer/sugar bowl sets, gravy boats, promotional margarine dishes, salt & pepper shakers, and napkin rings.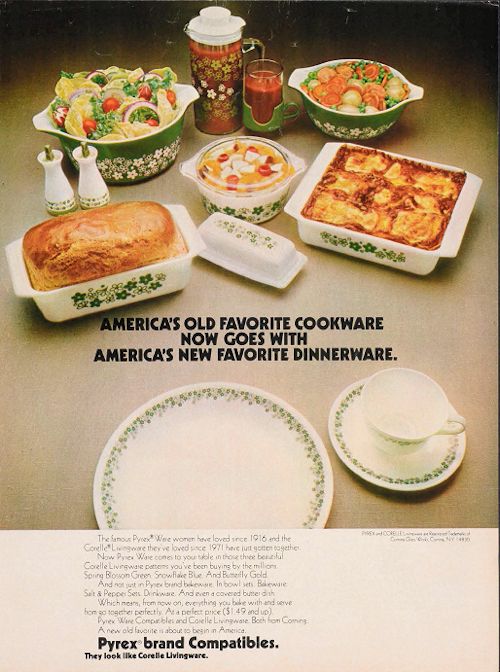 All three patterns are also seen on 2-quart round 024 casseroles, but it is unclear if they were marketed as limited distibution specials or as test market pieces. They do not appear in catalogs or advertising.
In 1974, tabletop ware items in the Old Town Blue pattern were added under the Compatibles umbrella, but no selection of ovenware was forthcoming. Literature in 1975 forwarded the notion that then-new Homestead could be considered a "perfect compatible pattern" in that it complemented Corelle Livingware's Old Town Blue. Mid-1980 saw the disappearance of the orginal version of Homestead and of the Old Town Blue tabletop ware as well.
Snowflake Blue would be the shortest lived of the three official Compatibles, lasting only until 1976. The other two would survive until 1979, when their patterns and color schemes were refreshed in order to continue them until 1981.
The Compatibles are unique in that they are the only Standard patterns in which the 043 and 045 oval casseroles included decoration on both their dishes and lids simultaneously. By 1978, however, the decorated opal lids were discontinued in favor of plain clear glass.
The arrival of the Compatibles in 1972 appears to have also prompted some changes to other then-current patterns. Friendship had all of its decorated clear lids changed to decorated opal. Daisy's Cinderella round casserole lids switched to the decorated opal its oval casseroles had always had, and Verde's Cinderella round casseroles had their plain clear lids updated to decorated opal matching that of their ovals. Oddly, though, none of the Compatibles' Cinderella round casseroles ever featured decorated lids, in clear glass or opal.
Several other Pyrex patterns in the 1970s and 1980s matched or at least coordinated (to varying degrees) with similar Corelle patterns, although the names were not exact matches nor were they marketed as Pyrex Compatibles. They included Autumn Harvest (Harvest Home), Colonial Mist (same), Homestead (Old Town Blue), Shenandoah (Wildflower) and Woodland (Woodland Brown).