Pyrex Pattern: Verde
Period of Production: 1967-1972
Designer: Cynthia S. Gerow
Description: Undecorated bowls and dishes in shades of greenish-yellow and light, medium, and dark avocado greens. Decoration initially on opal oval lids only. Round casserole lids were first produced in plain clear glass, later in decorated opal glass.
473 bowls supplied in 470 and 480 sets are different colors, making both sets greenish-yellow/light avocado/medium avocado.
Also produced were a Cinderella 441/444 Chip & Dip set, and a promo 444 salad bowl and utensils set.
Promo 024, 043, and 045 casseroles with candle warmers were also offered.
404 bowl offered singly until 1973.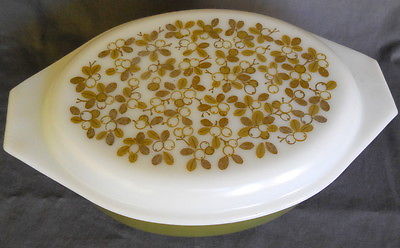 Verde Color Palette
Verde
Verde
Verde
Verde
Shapes and sizes in this pattern:
Round nesting mixing bowls 300 and 400 sets: 401 greenish-yellow, 402 light avocado, 403 medium avocado, 404 dark avocado
Cinderella round nesting mixing bowls 440 set: 441 greenish-yellow, 442 light avocado, 443 medium avocado, 444 dark avocado
Cinderella round casseroles 470 and 480 sets: 471 greenish-yellow, 472 light avocado, 473 medium avocado (greenish-yellow for 480 set), 474 light avocado, 475 medium avocado
Oval casseroles with opal decorated or plain clear (SP versions) lids: 043 light avocado, 045 medium avocado; 063 greenish-yellow
Refrigerator storage 500 set: 501 greenish-yellow, 502 light avocado, 503 dark avocado
Cinderella chip& dip set: 444 dark avocado, 441 greenish-yellow
Salad Set: 444 dark avocado
Round casserole: 024 dark avocado