Pyrex Pattern: Autumn Harvest
Period of Production: 1979-1986
Designer: Richard Hora
Description: Spray of shafts of wheat in ivory on alternating rust and dark orange bowls.
Pattern introduction preceded by a non-standard brown 045 oval casserole dubbed "Wheat".
Open stock 400 series bowls were offered individually, with the 401 and 403 in rust color, opposite the orange of those included in sets.
474s seen in the orange shade were part of the 480 set, whereas those seen of the rust color were sold individually as a #484.
No 045 oval casserole in either rust or orange.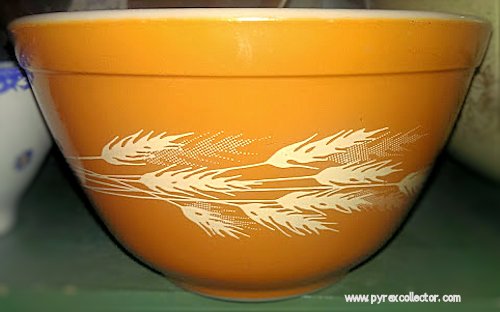 Autumn Harvest Color Palette
Autumn Harvest
Autumn Harvest
Wheat
Shapes and sizes in this pattern:
Round nesting mixing bowls 300 and 400 set: 401 orange, 402 rust, 403 orange, 404 rust
400 series open stock, 300 and 400 sets: 401, 402, 403, 404 all rust
Cinderella nesting mixing bowls 440 set: 441 orange, 442 rust, 443 orange, 444 rust
Cinderella round casseroles 470 and 480 set: 471 rust, 472 orange, 473 rust, 474 orange, 475 rust
484: 474 rust
Oval casserole: 043 orange
Refrigerator 500 set: 501 rust (undecorated), 502 orange, 503 rust