Pyrex Pattern: Butterfly Gold '72
Period of Production: 1972-1979
Designer: Gregory Mirow
Description: Symmetrical flower and butterfly pattern in white on gold or the reverse on opal white.
300, 400, 440 sets all alternate colors.
All bases decorated except for the 063 divided casserole dish.
Oval lids were originally decorated opal; later changed to plain clear glass.
One of the Pyrex Compatibles pattern collections, made to go with existing Corelle patterns.
300/400 bowl sets and 063 divided casserole not added until 1973.
Table top ware also made with this decoration.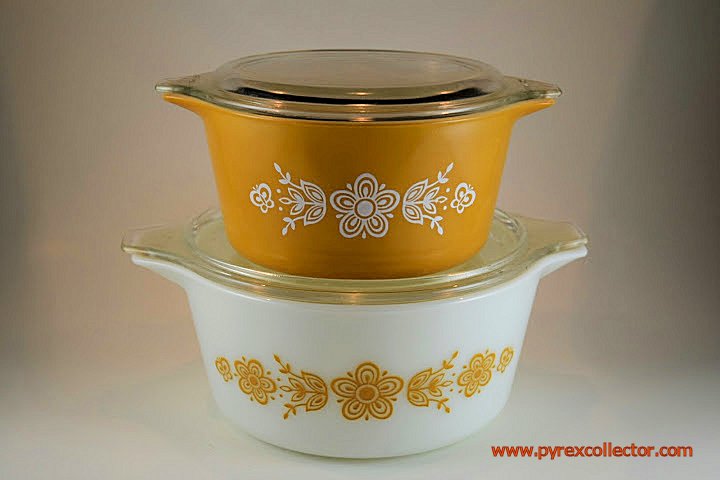 Butterfly Gold 1 Color Palette
Butterfly Gold
Shapes and sizes in this pattern:
Round nesting mixing bowls 300 and 400 sets: 401 gold, 402 opal, 403 gold, 404 opal
Cinderella round nesting mixing bowls 440 set: 441 opal, 442 gold, 443 opal, 444 gold
Cinderella round casseroles 470 and 480 sets: 471 gold, 472 opal, 473 gold, 474 opal, 475 gold
Oval casseroles with opal decorated or plain clear lids: 043 gold, 045 gold; 063 gold undecorated w/opal decorated lid
Refrigerator storage 500 set: 501 opal, 502 gold, 503 gold
Large round 4 qt. casserole: 664 gold
Round casserole: 024 opal