Pyrex Pattern: Butterfly Gold '79
Period of Production: 1979-1981
Designer: Gregory Mirow
Description: Asymmetrical flower and butterfly pattern in white on goldish-orange or yellowish-gold.
Update of original Butterfly Gold pattern released in 1972.
Pattern limited to 400 round and 440 Cinderella mixing bowls, and Cinderella round casseroles with clear lids.
474s seen in the lighter shade were part of the 480 set, whereas those of the darker color were sold individually as an item #484.
There is no 404 bowl or 500 refrigerator set.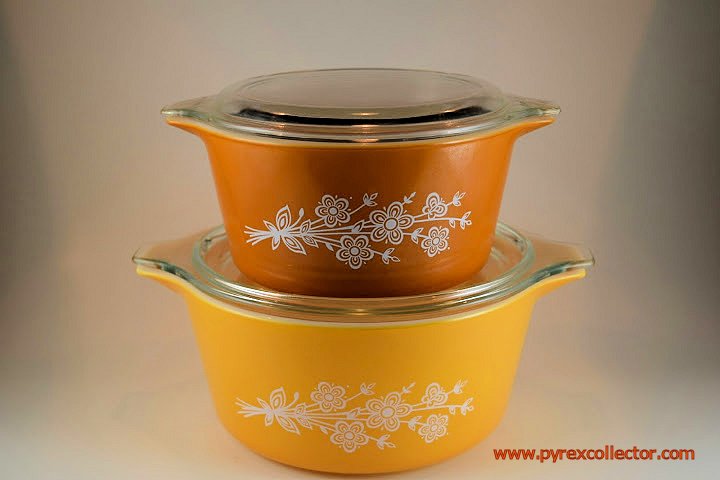 Butterfly Gold 2 Color Palette
Butterfly Gold 2
Butterfly Gold 2
Shapes and sizes in this pattern:
Round nesting mixing bowls 300 set: 401 orange, 402 yellow, 403 orange
Cinderella round nesting mixing bowls 440 set: 441 yellow, 442 orange, 443 yellow, 444 orange
Cinderella round casseroles 470 and 480 sets: 471 orange, 472 yellow, 473 orange, 474 yellow, 475 orange
Cinderella 484 and 485: 474 orange, 475 orange