Pyrex Pattern: Butterprint
Period of Production: 1957 - 1968
Designer:
Description: Farm life imagery in turquoise on opal white and the reverse.
Produced in nesting mixing bowls, round Cinderella casseroles, and a 500 refrigerator set.
470, 480, and 440 sets alternate colors.
Combined with white on turquoise "Snowflake" and other solid blue pieces to create "Turquoise" collection sold through 1967.
A limited selection including only 300 and 440 series Butterprint bowls and round Cinderella casseroles continued as "Turquoise" through 1968.
Cinderella 440 mixing bowl set in orange on opal white distributed via stamp redemption program.
400 set in all-turquoise on opal sold through Top Value Stamps catalog.
440 and 470 sets in all-turquoise on opal and 470 sets in all-pink on opal also produced for stamp programs.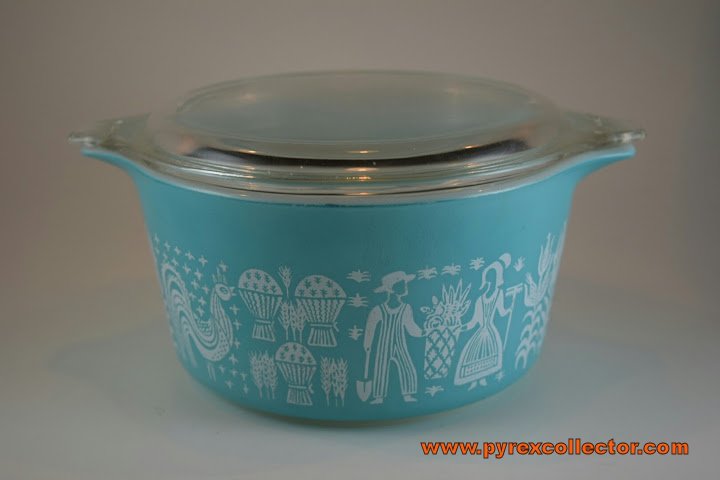 Shapes and sizes in this pattern:
Round nesting mixing bowls 300 (standard) and 400 (stamp program) sets: 401, 402, 403, 404 all turquoise on opal
Cinderella round nesting mixing bowls 440 set: 441 opal, 442 turquoise, 443 opal, 444 turquoise
Cinderella round nesting mixing bowls SP 440 set: 441, 442, 443, 444 all orange on opal
Cinderella round casseroles 470 and 480 sets: 471 turquoise, 472 opal, 473 turquoise, 474 opal, 475 turquoise
Cinderella round casseroles stamp program 470 set: 471, 472, 473 all turquoise on opal
Cinderella round casseroles stamp program 470 set: 471, 472, 473 all pink on opal
Refrigerator storage 500 set: 501, 502, 503 all turquoise on opal