Pyrex Pattern: Colonial Mist
Period of Production: 1983 - 1986
Designer:
Description: Daisies and spring flowers in white on dark blue, or dark blue on white.
The last standard pattern collection to be introduced.
Decorated blue on white bowls are unusual in that they are painted white not plain opal glass.
Pattern limited to 400 round and 440 Cinderella nesting bowls, and round Cinderella casseroles.
Open stock 402 and 404 bowls in white on blue also produced, opposite of those sold in sets.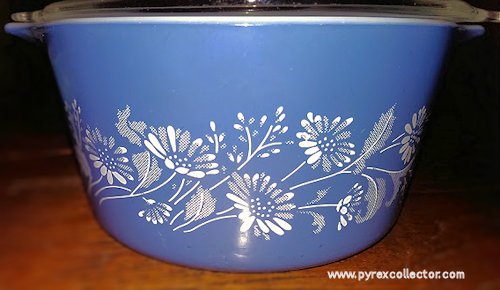 Shapes and sizes in this pattern:
Round nesting mixing bowls 300 and 400 sets: 401 blue, 402 white, 403 blue, 404 white
Round nesting mixing bowls 400 series open stock: 401, 402, 403, 404 all blue
Cinderella round nesting mixing bowls 440 set: 441 blue, 442 white, 443 blue, 444 white
Cinderella round casseroles 470 and 480 sets: 471 blue, 472 white, 473 blue, 474 white, 475 blue
Cinderella round casseroles 460 set: 473 blue, 474 white