Pyrex Pattern: Early American
Period of Production: 1962-1971
Designer: Philip Johnson(?)
Description: All pieces decorated with Early American farm and antique kitchenware imagery, in brown on opal white or in gold leaf on milk chocolate brown, all with colorless glass lids.
300 set mixing bowls are all brown decoration on opal, with a 404 only available as a promo covered casserole with cradle.
A 400 set comprised of white-rimmed, graduated earthtoned Americana bowls was also offered as part of the collection.
The 503 is a unique white on brown, however, white on brown 401 and 403 bowls are known to exist.
The 441 from the 440 set is brown decoration on opal; a gold on brown 441 is from a Chip & Dip promo (#395-7).
063s exist in both gold on brown and in brown on opal.
A 1962 promotional (#6262) consisted of a 043 oval casserole paired with a mounter cradle.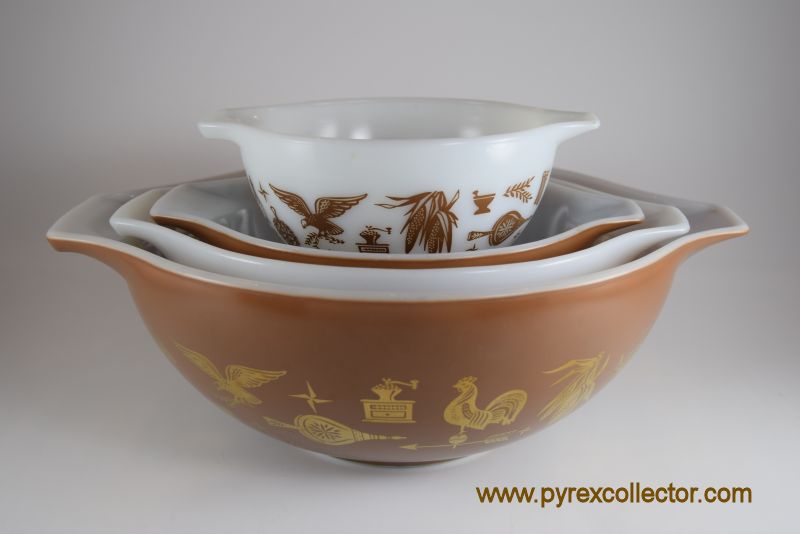 Shapes and sizes in this pattern:
Round nesting mixing bowls 300 set: 401, 402, 403 all brown on opal
404 brown on opal sold as covered casserole with serving cradle
Cinderella round nesting mixing bowls 440 set: 441, 443 brown on opal; 442, 444 gold on brown
Cinderella round casseroles 470 and 480 sets: 471,473,475 gold on brown; 472, 474 brown on opal
Oval casseroles with plain clear lids: 043, 045 gold on brown; 063 gold on brown or brown on opal
Refrigerator storage 500 set: 501, 502 brown on opal; 503 gold on brown
Chip & dip set: 444/441 gold on brown