Solid red 401 "poppy" bowls offered separately appear to match this pattern's red.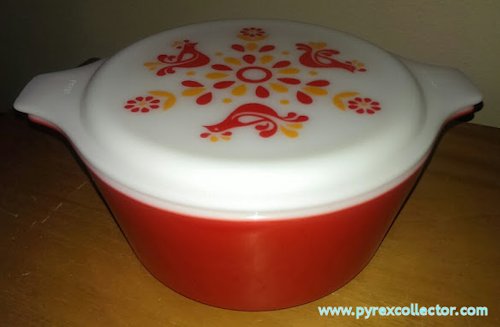 Friendship Color Palette
Friendship
Friendship
Shapes and sizes in this pattern:
Round nesting mixing bowls 300 and 400 sets: 401 decorated, 402 red, 403 decorated, 404 orange
Cinderella round nesting mixing bowls 440 set: 441 decorated opal, 442 orange, 443 decorated opal, 444 red
Cinderella round casseroles with decorated clear or opal lids 470 and 480 sets: 471 red, 472 orange, 473 decorated opal, 474 red, 475 decorated opal
Oval casseroles with opal decorated or plain clear lids: 043 orange, 045 red, 063 red
Refrigerator storage 500 set: 501 orange, 502 red, 503 decorated opal
Round casserole: 024 red
Pixie casserole: 700 red, orange
Bakeware: 933 decorated opal
Some references state that Friendship was originally called "Friendship & Daisy", apparently based upon a page from a 1973 dealer catalog: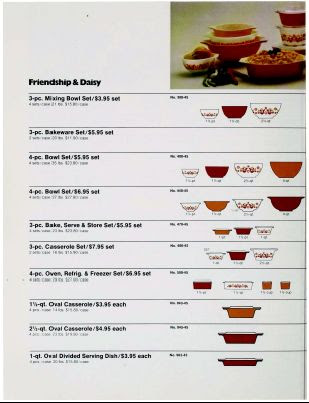 If the page is viewed in the context of the entire catalog, however, it becomes apparent that an assumption was made based upon an image of the single lefthand page: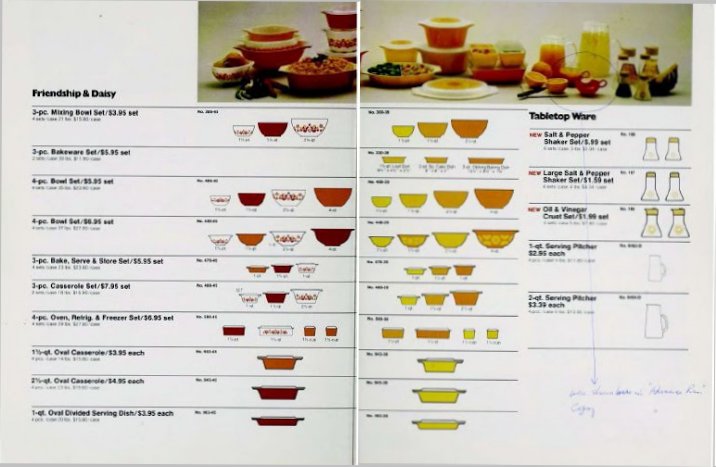 Earlier January and June 1972 dealer catalogs leave no doubt that the pattern's name is "Friendship", as do 1971 magazine ads. And, since Daisy's introduction preceded Friendship's by three years, it would make little sense to call the latter "Friendship & Daisy".