Pyrex Pattern: Gooseberry
Period of Production: 1957 - 1966
Designer:
Description: Gooseberries with leaves and tiny flowers in alternating pink on opal white and the reverse, and also in black on alternating yellow or opal white 440 series Cinderella bowls (discontinued 1962).
Pink pattern limited to 440 Cinderella mixing bowls, 470 series Cinderella round casseroles with clear glass lids (470 set, 1958; 480 set, 1961), and a pink on opal 500 refrigerator set (1961).
Black on yellow or white pattern offered on Cinderella 440 bowls only.
A few other non-standard color pieces are known.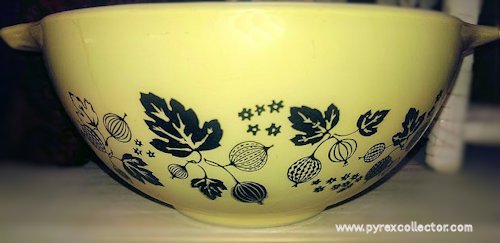 Shapes and sizes in this pattern:
Cinderella round nesting mixing bowls 440 set: 441 bk/wh, 442 bk/yw, 443 bk/wh, 444 bk/wh
Cinderella round nesting mixing bowls 440 set: 441 pk/wh, 442 wh/pk, 443 pk/wh, 444 wh/pk
Cinderella round casseroles 470/480 sets: 471 wh/pk, 472 pk/wh, 473 wh/pk, 474 pk/wh, 475 wh/pk
Refrigerator storage 500 set: 501 pk/wh, 502 pk/wh, 503 pk/wh