A Brief History of Pyrex Kitchenware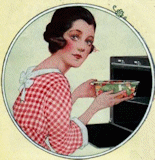 The origins of Pyrex lay in a problem the early-20th century railroad industry faced with broken lantern globes. When hot, contact by rain or snow would cause them to crack. Corning Glass was engaged to come up with a solution, which they did in the form of a borosilicate non-expansion glass formula they dubbed Nonex. While the perfect answer to the railroads' breakage issue, it was ultimately unprofitable in that few of the new type globes required replacement thereafter.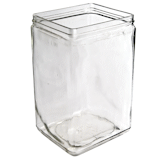 Nonex found success in other areas, however, including wet cell battery jars. When her ceramic casserole cracked, it was one of those battery jars, cut down to make a baking dish, that Corning researcher Jesse Littleton brought home for his wife to try. In her experiments with it, she found that the foods cooked faster, at lower temperatures, with the added benefit that she could see the food as it cooked.
With the Nonex formula altered to remove lead, work proceeded to develop a cookware line from it, which the company called Pyrex. And, as cookware, albeit expensive for the times, Pyrex proved quite the success, selling over 4 million pieces its first four years of production and an additional 26 million over the following 8 years.
The Great Depression in 1929 dealt Corning and Pyrex a great challenge. Part of its high cost lay in the fact that, even though annual production numbered in the millions, the pieces were still individually blown by hand. Corning was able to survive the poor economy by switching its Pyrex manufacturing process to automated machine pressing, thus enabling a reduction of retail prices by 30-50%.
While Pyrex was not the first high heat compatible glass of its kind, it certainly became the most successful in terms of both the scientific ware and kitchenware produced from it.
As kitchenware, and as bakeware in particular, Pyrex was marketed as being most versatile. Advertisements touted, just as Mrs. Littleton had observed, that it heated evenly, actually absorbing and conducting heat rather than reflecting it as metal utensils might. Its transparency allowed the cook to assess doneness without uncovering. Bread was advertised as rising better, and pie crusts as crisping on both bottom and top.
When the request came for a more durable messware for the military, Corning turned its attention to the opal ware produced by MacBeth-Evans, the Charleroi, PA glass company with which it had merged in 1936. The dinnerware developed was later marketed to the hotel and restaurant industry, and would eventually become the basis for the opal glass oven and kitchen ware popular over the next half century.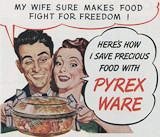 During World War II, ads stressed that Pyrex ware saved valuable food by allowing cooking, serving, refrigerator storage, and reheating and serving leftovers all from the same utensil without waste. Post-war, new brides were barraged with Pyrex advertisements in national magazines.


The introduction of color ware in the fall of 1945 and, later, new styles and decorative patterns would further enhance the attractiveness of the ware. The 1950s and 1960s saw the release of dozens of seasonal gift items, and the advertising focus shifted to their promotion.
New standard patterns and promotionals continued to be introduced up until about 1983. In 1986, however, US Pyrex opalware was all but discontinued. Curiously, Pyrex casseroles produced in England were imported and marketed for a brief time.
In the post-opal ware era, Corning continued to cultivate consumer interest for color and decoration by offering clear ware bowls painted in a variety of shades. Subsequently, sculptured and also tinted clear ware were produced.
2015 marked the 100th anniversary of the invention and introduction of Pyrex. The Corning Museum of Glass in Corning, NY conducts an annual seminar on glass, and in mid-October of that year, as an accompaniment to the centennial exhibit, its focus was on Pyrex. Highlights included presentations by glass scholars, noted authors on foodways, design, consumer and material cultures, plus an international panel of Pyrex collectors.

More information at www.cmog.org/programs/lectures-seminars/annual-seminar...
Pyrex Timeline
| | |
| --- | --- |
| 1851 - | Corning Glass Works founded in Somerville, MA, originally as Bay State Glass Co. |
| 1868 - | After subsequently operating as Brooklyn Flint Glass Co, company moved to Corning, NY |
| 1893 - | Borosilicate glass first made by German company Schott AG and marketed as "Duran" |
| 1908 - | Eugene Sullivan of Corning Glass Works develops Nonex, a borosilicate low-expansion glass |
| 1913 - | Jesse Littleton of Corning Glass Works gives his wife a casserole dish made from a cut-down Nonex battery jar |
| 1915 - | Pyrex clear ovenware first marketed by Corning as an American made alternative to Duran |
| 1915 - | On May 18 Boston department store Jordan Marsh places the first Pyrex order |
| 1919 - | Pyrex sales reach 4.5 million pieces |
| 1925 - | Clear Pyrex refrigerator storage dishes introduced |
| 1927 - | An estimated 30 million pieces of Pyrex Ware have been sold |
| 1929 - | Switch to automated machine pressing lowers costs, and overall pricing reduced by 30-50% increases sales |
| 1936 - | Flameware, an aluminosilicate based glassware for stovetop use marketed |
| 1936 - | Merger with MacBeth-Evans Glass Co. of Charleroi, PA; plant used for tempered opal glass military mess ware |
| 1940 - | Other Pyrex products including opaque tempered soda-lime glass for bowls and bakeware produced |
| 1945 - | Pyrex Color Ware introduced with primary color four piece nesting mixing bowl set |
| 1948 - | Refrigerator storage set in primary colors added |
| 1949 - | #404 mixing bowl in red offered |
| 1956 - | Snowflake and Pink Daisy patterns debut on new oval casseroles |
| 1957 - | Cinderella bowls introduced with Butterprint and Gooseberry patterns; 3-bowl #300 mixing bowl sets offered |
| 1958 - | Corning design department redesigns Pyrex Ovenware and Flameware; Cinderella casseroles introduced |
| 1961 - | Cinderella casseroles in 1-1/2 qt. and 2-1/2 qt. sizes added |
| 1963 - | Oblong casseroles in Golden Honeysuckle pattern |
| 1967 - | "Dots" pattern introduced in 401, 402, and 403 sizes |
| 1969 - | #404 Dots mixing bowl added |
| 1970 - | "Bowl-a-Rama" gold and poppy red 401 and 402 singles offered |
| 1972 - | Pyrex Compatibles introduced to match existing Corelle patterns |
| 1979 - | Flameware discontinued, replaced by amber-colored Pyrex Fireside |
| 1983 - | The last offering of color ware gift sets, Bake N Carry in rust and ivory |
| 1986 - | Pyrex color opal ware discontinued |
| 1986 - | Painted clear glass nesting bowl sets debut |
| 1986 - | Decorated opalware casseroles sourced from Pyrex England marketed in US |
| 1998 - | Corning divests consumer products division; World Kitchen, LLC is formed |
| 2015 - | Clear Pyrex bowls decorated with Dots pattern in retro colors commemorate multiple points in Pyrex 100 year history |
| 2017 - | World Kitchen, LLC renamed Corelle Brands, LLC |
| 2018 - | Clear storage ware with 1959 "Lucky In Love" pattern offered |