Pyrex Pattern: Horizon Blue
Period of Production: 1969 - 1972
Designer: Robert Gibson
Description: Decorative design in a medium dark turquoise blue on opal white.
Bowls sets are alternating solid turquoise blue and design on opal white.
No 404 bowl.
Decorated opal lids on oval casseroles, plain clear glass lids on round Cinderella casseroles.
470 sets do not alternate, instead being solid (471), decorated (472), decorated (473).
Patterned versions of the 471 are alleged to exist.
A promo 474 exists in blue with a decorated clear glass lid and serving basket.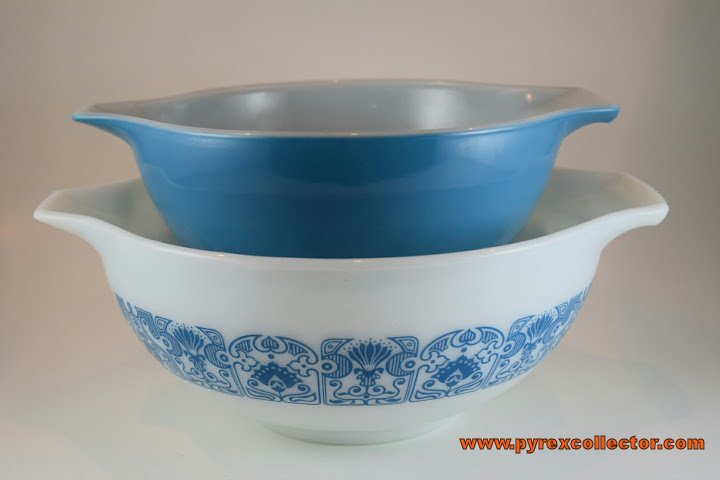 Horizon Blue Color Palette
Horizon Blue
Shapes and sizes in this patttern:
Round nesting mixing bowls 300 set: 401 decorated, 402 blue, 403 decorated
Cinderella round nesting mixing bowls 440 set: 441 decorated, 442 blue, 443 decorated, 444 blue
Cinderella round casseroles 470 and 480 sets: 471 blue, 472 decorated, 473 decorated, 474 blue, 475 decorated
Oval casseroles with opal decorated lids: 043 blue, 045 blue; 063 blue
Refrigerator storage 500 set: 501 blue, 502 blue, 503 decorated
Promo Casserole Set: 474 blue with patterned clear lid