Pyrex Pattern: Old Orchard
Period of Production: 1974-1978
Designer: Estelle G. Rothstein
Description: Orange dishes with and without fruit pattern in brown, and with and without brown fade.
402, 404, 442, 444, and 474 have fade but no decoration.
503 and Oval casseroles have decoration but no fade.
471, 472, and 063 divided dish have no decoration and no fade.
Originally supplied with brown painted opal lids, later switched to colorless glass.
501s are different colors, brown and orange.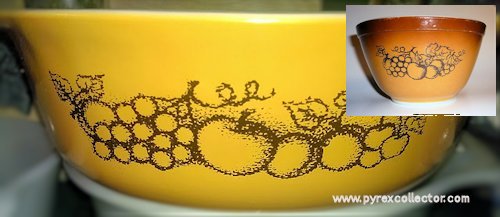 Old Orchard Color Palette
Old Orchard
Old Orchard
Shapes and sizes in this pattern:
Decorated unless otherwise noted.
Round nesting mixing bowls 300 and 400 sets: 401, 402 fade only, 403, 404 fade only
Cinderella round nesting mixing bowls 440 set: 441, 442 fade only, 443, 444 fade only
Cinderella round casseroles 470 and 480 sets, brown painted opal or clear lids: 471 solid orange, 472 solid orange, 473, 474 fade only, 475
Oval casseroles with brown painted opal or plain clear lids: 043 no fade, 045 no fade; 063 orange
Refrigerator storage 500 set: 501 brown/orange, 502 brown, 503
Large round 4 qt. casserole: 664
Harvest promo w/ hugger cradle, pattern on solid orange w/decorated clear lid: 473, 475