Pyrex Pattern: Snowflake Blue
Period of Production: 1972 - 1976
Designer:
Description: Snowflake garland pattern in white on blue or the reverse.
Nesting bowls and rouind Cinderella casseroles alternate.
Oval casseroles have opal patterned lids.
Pattern collection encompasses full line of models.
063 dish undecorated; no 053.
One of the Pyrex Compatibles pattern collections, made to go with existing Corelle patterns.
300/400 bowl sets and 063 divided casserole not added until 1973.
Table top ware also made with this decoration.
Often seen incorrectly referred to as "Snowflake Garland".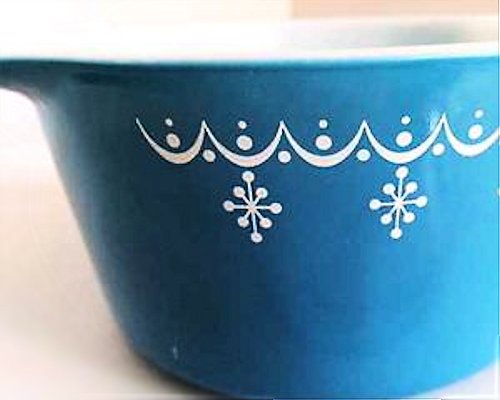 Shapes and sizes in this pattern:
Round nesting mixing bowls 300 and 400 sets: 401 blue, 402 opal, 403 blue, 404 opal
Cinderella round nesting mixing bowls 440 set: 441 opal, 442 blue, 443 opal, 444 blue
Cinderella round casseroles 470 and 480 sets: 471 blue, 472 opal, 473 blue, 474 opal, 475 blue
Oval casseroles with opal decorated lids: 043 blue, 045 blue, 063 blue undecorated
Refrigerator storage 500 set: 501 opal, 502 blue, 503 blue
Large round 4 qt. casserole: 664 blue
Round casserole: 024 opal