Pyrex Pattern: Spring Blossom Green '72
Period of Production: 1972-1979
Designer: Sara L. Balbach
Description: White floral decoration on avocado green bowls and dishes, or the reverse on opal. All bowls and dishes decorated with the exception of 063 divided dish. A Compatibles pattern made to go with similarly decorated Corelle Livingware.
Oval lids originally decorated opal, later (1978) switched to undecorated colorless glass.
300/400 bowl sets and 063 divided casserole were not added until 1973.
500 refrigerator set decoration revised mid-life cycle.
A promo 404 casserole with lid and cradle (84-SP-1) offered through a stamp redemption program.
One of the Pyrex Compatibles pattern collections, made to go with existing Corelle patterns.
Table top ware also made with this decoration.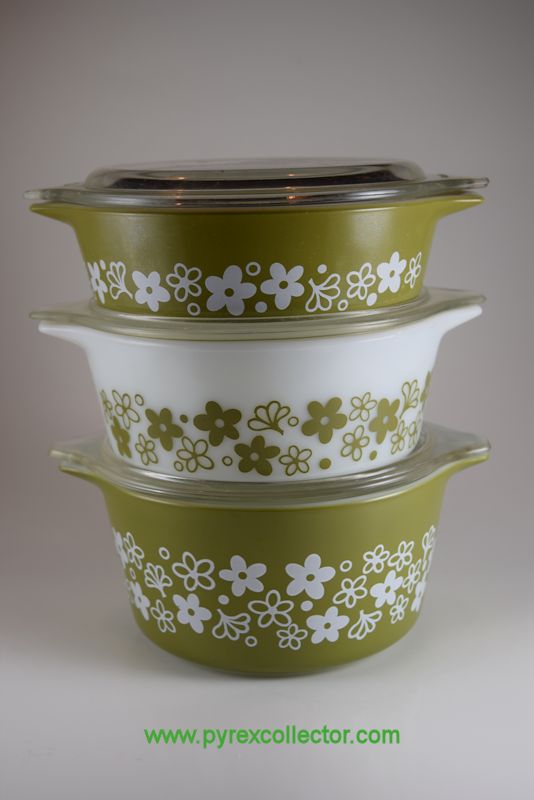 Spring Blossom Green 1 Color Palette
Spring Blossom Green
Shapes and sizes in this pattern:
Round nesting mixing bowls 300 and 400 sets: 401 green, 402 opal, 403 green, 404 opal
Cinderella round nesting mixing bowls 440 set: 441 opal, 442 green, 443 opal, 444 green
Cinderella round casseroles 470 and 480 sets: 471 green, 472 opal, 473 green, 474 opal, 475 green
Oval casseroles with opal decorated or plain clear lids: 043 green, 045 green; 063 green undecorated w/opal decorated lid
Refrigerator storage 500 set: 501 opal, 502 green, 503 green
Large round 4 qt. casserole: 664 green
Round casserole: 024 opal