Pyrex Pattern: Town And Country Stamp Program
Period of Production: 1966-1967
Designer: ?
Description: Stamp program version offered concurrently with standard version. Geometric cross-stitch symbols in either brown OR orange "large pattern", only on unpainted opal glass.
Decoration colors alternate on 300 (br/or/br), 480 (br/or/br), and 444 (or/br/or/br) sets.
No 471 or 472, so no 470 set.
500 refrigerator set 501/502/503 are brown/orange/brown on opal.
404(br) only sold as a promo casserole.
063 and 043 in brown on opal; no 045.
Chip & dip 444/441 (br/or).
024 (br) round casserole.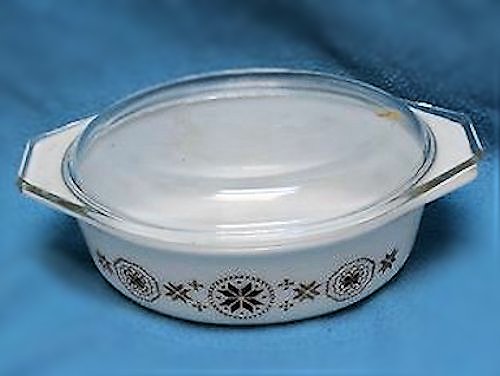 Town And Country SP Color Palette
Town & Country SP
Town & Country SP